Get the most from rewiring your home!
Deciding to rewire your home (especially if lived in) can be a big decision. There's obviously the cost to think about but also the effects of temporary disruptions to your electricity and some unavoidable damage to your decor and plaster.
However, it isn't all bad news!
At Capper Shaw Electrical we understand the importance of your decision and the importance of getting the new installation right so that your future safety and electrical needs are well covered for many years to come.
Once complete, a competently designed, installed and commissioned installation can mean your home is a much safer, attractive and user friendly place to live.
Planning your Rewire.
For the homeowner, preparation is the most important part of a successful rewire and here is where your input can make the job shorter, cheaper and cause as little disruption as possible.
If you provide an honest, competent, Warrington Part P registered electrician with the correct information about your requiremens from the installation then life is made easier for the electrician and you the customer can get exactly what you want, first time.
You should be able to spend time and go through, room by room with your electrician describing  what you want. The kitchen is often well planned but other areas can be neglected. Think of your specific lighting requirements and types. Do you want downlights instead of centre mounted ceiling roses, would you like wall lights in bedrooms or living rooms? Are there any extras such as telephone or TV points needed.
Would a power supply to the shed or garage be useful or a weather proof socket outlet for your garden?
Less conscientious electricians will happily provide what seems to be a very attractive quote for the bare minimum knowing full well once the job starts the clients needs will escalate along with the cost.
At Capper Shaw Electrical we much prefer to be able to quote you for the exact installation you require. We can sub-divide the quote, as requested by you, so that you have it in black and white what is costing what, helping you make a decision on your required installation based on your budget.
Once you've decided on the installation you want we will confirm the price and the exact work to be done in writing so you know exactly what you are getting for your money.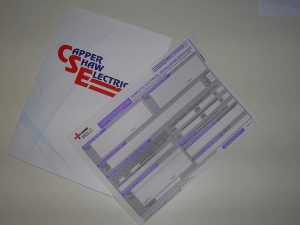 Get it Tested!
Finally, when choosing an electrical contractor Warrington to work on your home, ensure they are an enrolled member of one of the following full scope Part P Competent Person Schemes who will provide you with a full electrical installation certificate on completion: NIC EIC, ECA, ELECSA, NAPIT.